Mid December the official kick-off for the Interreg Deutschland-Danmark project RollFlex took place at SDU's Mads Clausen Institute in Sønderborg. Round 40 guests, among them several representatives from local companies in the region, were welcomed by Horst-Günter Rubahn who also introduced Sønderborg's mayor Erik Lauritzen and Troels Petersen from Danfoss, the two greeting note speakers for the event.
The key note was held by Dr Stefan Mogck, leader of the roll-to-roll organic device technology section at Fraunhofer FEP, who presented their work with production of organic light emitting diodes (OLEDs). As an example, he had brought with him a Christmas candle arch with an image made of OLEDs. Dr Mogck emphasised the importance of establishing this new, unique innovation project centre within roll-to-roll technology in the Danish-German border region.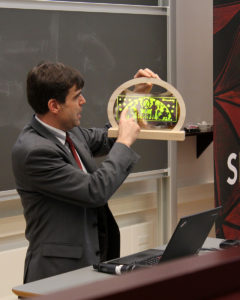 Project leader Morten Madsen subsequently presented the RollFlex project, followed by a tour through the RollFlex laboratory. Here, the guests could get insights in the R2R facility and in MCI's new Innovation lab that was presented by the future head of section for Technology Entrepreneurship and Innovation, Silke Tegtmeier. The event provided good opportunities for networking, and questions and considerations about the facilities, the centre and collaboration possibilities were further discussed during the joint lunch.
The event ended with pitch talks by and workshops with the project partners who provided a detailed overview of their work and facilities that together constitute the new RollFlex innovation project centre, and possible collaboration projects were considered.