As in previous years, the RollFlex project was present at the New Energy fair in Husum in 2019 – one of the most important fairs within renewable energies in Northern Germany.
Organised by Prof. Martina Gerken from Kiel University, the main purpose of this years's participation was to inform the numerous stakeholders and network partners about the latest project results.
The four project partners presented their work – the development of organic solar cells and organic light emitting diodes (OLEDs) by the use of roll-to-roll technology – and gave the present stakeholders and company representatives a comprehensive overview of the possibilities for cooperation with the RollFlex Centre.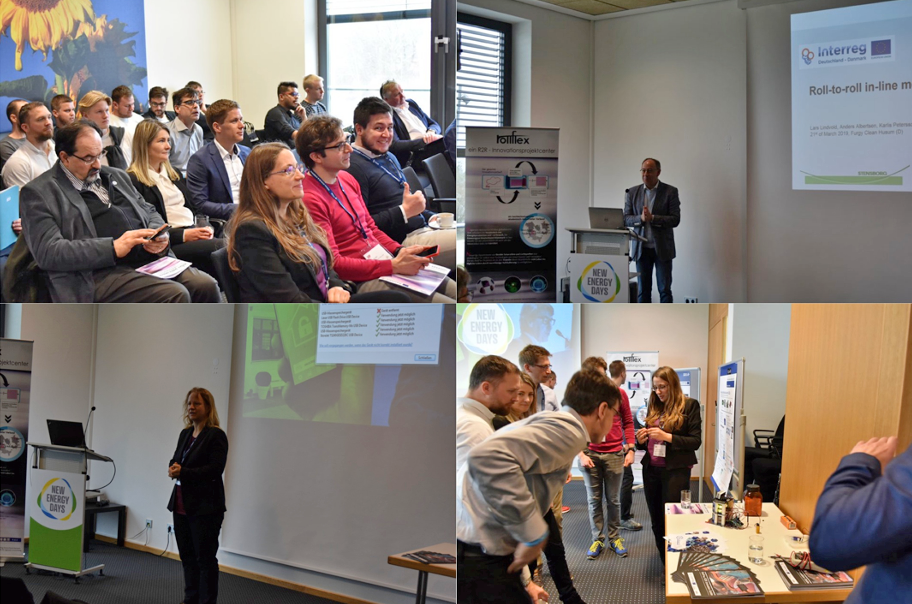 In addition, the project partners had the pleasure to disclose the project extension which primarily aims at intensifying the existing good collaboration with numerous companies and stakeholders and developing a business model for further collaboration with the RollFlex Centre.
Finally, interested visitors could look at the achieved project results in applied examples. Thus, old and new solar cell modules and OLEDs were presented. Due to improved contacts, the new models are now easier and cheaper to produce and also more effective because of decreased losses.
Illustrated by a new LEGO model house with integrated organic solar cells and equipped with OLEDs, the project partners could show how the energy that is generated by the solar cells can be measured and used for driving the OLEDs. New Zinc oxide nanostructures in the solar cells and OLEDs developed by project partner Phi-Stone enhance their light scattering.
The project partner Stensborg showed their nanostructured silver foils with integrated electrodes which have been tested positive for the development of solar cells and OLEDs with increased efficiency.
Altogether, the feedback from the stakeholders was very positive and a lot of new contacts were established. These are now going to be intensified during the project extension.